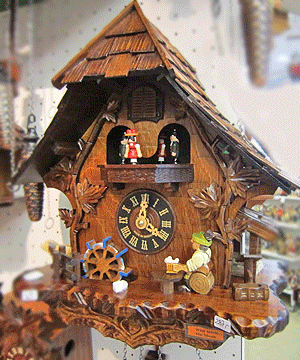 Opening hours / Spezial arrangement possible:
Mo. -Fr. 10.00 -18.00 / Sa. 10.00 -18.00

Dear Friend,

Greetings from the world famous "Cuckoo Clock", the biggest and only one of its type. It is one of the major attractions in Wiesbaden, and is now well over fifty years old. Visitors from all over the world come to this Spa City to visit our store. Inside this most photographed store in Europe you can find the very best cuckoo clocks made in Germany. Here you can find something for everyone for every occasion. We have thousands of gifts and souvenir items, i.e. a full collection of Hummel figurines, Beer Steins, Wall Clocks, Anniversary Clocks, Music Boxes, Kaiser Porcelain, Swarovski Crystal figurines and jewellery, Solingen Knives, Anri Wood Carvings, Lladro figurines and the list goes on!
Mailing service all over the world!
We accept all major credit cards, just send us your number and expiration date.
We welcome the opportunity to serve you and your friends. So call, write, or fax - we would love to hear from you.


Thank you


Yours Julius Stern